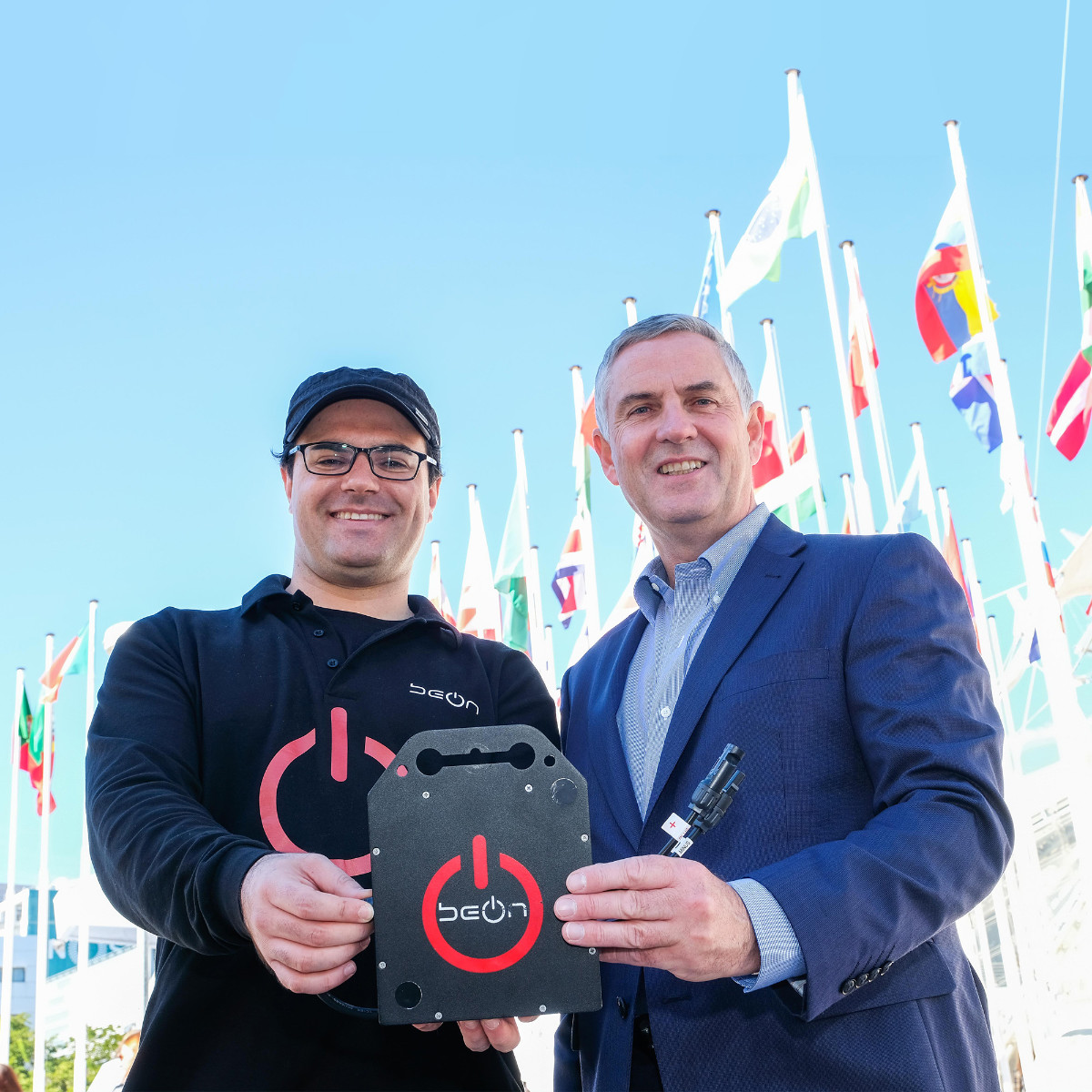 In Free Electrons Like In Life: It's Not Where You Start, It's Where You Finish
When Rui Beon won Free Electrons last year he made an emotional speech that he claims "rarely happens". He wasn't expecting, this wasn't an Oscar night where the winners already know they're going to win because they've won everything during the award season. This was the first edition of Free Electrons. None of the startups really knew what they're getting themselves into. They only knew that eight giant utilities didn't come knocking on their doors every day.
But let's start from the beginning. Rui was just a kid when he first started inventing gadgets, and having this passion for everything electronic and that's why he decided to study electrical engineering. Little did he know how sealed was his fate.
BeOn Energy was founded in 2014, during an innovation program from EDP and they have been working together ever since. BeOn is a company developing solar technologies and it's the first company in the world developing and producing PV panel integrated controllable microinverters, specially designed for energy self-consumption and smart energy management solutions.
The idea is nothing new, it's been out there for over 20 years, but only in the past 10 years there's the technology to make it possible. Rui admits that what caught the utilities attention was the simplicity, how quickly it can be installed and the democratization of the solar energy. Also, in two years the European Union is demanding that every building has renewable energy. So BeOn, as well as its clients, will be in pole position.
Throughout the program Rui says he never thought about the prize money, he believes that the true opportunity of Free Electrons is being able to work with some of the utilities more than winning the final prize. "Those startups are not competing for the best idea, they are there to do business", says Rui.
Today BeOn still has the pilot with SP Group and another one with ESB, having other projects on the pipeline and is also working with other startups from Free Electrons, because, you may be surprised, they're actually friends. It is not a matter of winning or losing, it's a matter of joining forces and contribute to a better world (and do business).
It's a win-win
You're probably wondering what do the utilities gain with all this? Like every company in this world it has come the time for utilities to reinvent themselves, and there's no such thing as rivalry among all eight utilities, they actually help each other out. Not only they know they're stronger together but also they know that if they don't understand the future business model they'll end up struggling in the future, so it's a win-win.
Future Free Electrons startups know one thing for sure: nothing comes easy, nothing comes that you are not supposed to have. Rui made it this far because he fought a lot. If you ever get the chance to see the video of his victory you'll hear about his past. He was born poor, he didn't have any utility at home, meaning he didn't have electricity or water and he now works for eight of the biggest utilities in the world.
Rui doesn't believe in coincidences not even when he found out that his great grandfather worked at a coal mine where now is the famous MAAT fed by BeOn energy and where the Portuguese module of Free Electrons took place. He doesn't think it was destiny, he likes to think he built his own destiny.
Having spoken with people who worked with him during the program I know that he built his own destiny because he never gave up, he never lost focus. But you know, some things are just meant to be, it seems like all stars align for some people to get exactly what they're supposed to. This was his future all along, it was always in his blood and it can also be in yours. You'll only realize once it happens. Like he did. Whether you face it as destiny or hard-work or both, that's up to you.